Great way to start my 30th year. Today is my birthday and I'm the fittest I've ever been. It feels amazing. In the last year I've lost 20kg, ran over 700 km, ran my first race as an adult (14 km HBF Run For A Reason) and completed a marathon.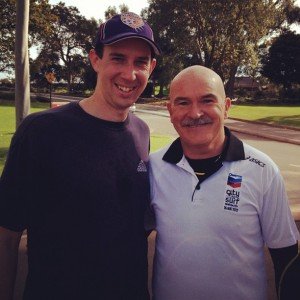 Oh and I also got to run with one of my heroes, the legendary, former marathon world record holder, current Australian record holder,
Robert de Castella (pictured).
The funny thing is, this time last year I thought I was reasonably fit, maybe needed to get out a bit more, but never had any plans to do much running. I was more of a soccer player.
Anyway, today I ran 4.18 km (equaling my second best, and 20 metres short of my best in this challenge) in the 30 minutes at an average pace of 7:11 mins/km, average heart rate of 151 bpm.