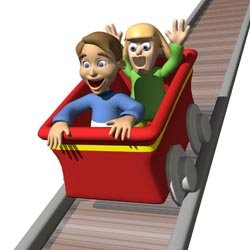 It's 2pm on Day 4. I'm feeling a whole lot better that I was this morning.
After I wrote my last post I had 2 fairly strong coffees & did a tacfit workout (basically bodyweight circuit training). After then having a shower I started feeling a lot less tired. Coincidence? lol
My eyes are stinging, but otherwise I feel almost back to my normal energetic self. It's a great feeling after the darkness this morning!
I've been noticing a pattern – from 2pm through to around 3am I feel great, can concentrate and am motivated to do a lot of work. The wall hits about 3 to 3:30 am. I wake up from the 4am sleep feeling dreadful. That continues and worsens until after the 8am sleep. Then between around 8:30am and 12pm I start feeling better. The 12pm sleep seems to knock me back a bit, but by 1pm I'm starting to feel human again and so the cycle continues.
What a rollercoaster ride!
I'm also learning a lot about discipline, which hopefully will also have long term effects.